Born in PONTORSON in the Manche, I live in VERN SUR SEICHE near RENNES. From an early age I am attracted by graphic arts and I like to express myself through drawing. The taste for Painting really comes to me in 1990. I enrolled in a course at the Fine Arts of RENNES, where I learned the basics of painting for 2 years with Alain AUREGAN.
1993, at the workshop of CHANTEPIE (35) I work on various compositions, but most of my artistic training will be self-taught. Very quickly, I felt the need for expressive freedom and decided to paint alone, landscapes from my imagination or met during travels.
I define my painting as an instinctive and spontaneous interpretation of reality. My figurative style leaves a large place for imagination where the material is expressed to create alternating shadows and lights. Over the years, my work destructures slightly, while remaining figurative, it
brings to my works a very personal style.
It is reality that resembles my paintings and not the other way around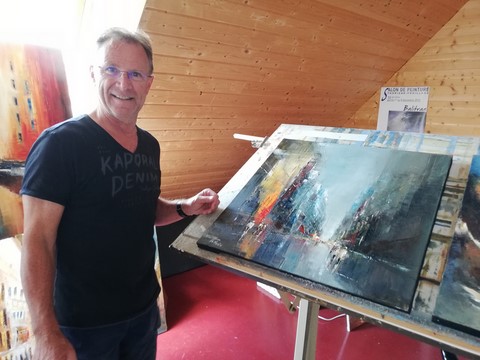 I paint mainly in my studio in Vern Sur Seiche, I happened to make some paintings outdoors, but I am disturbed by the variations of light that influence my choice of colors. I feel freer in the workshop and I am not jostled by time.
I am inspired by seascapes and urban atmospheres, which I instinctively realize with my emotions and memory. Interpretation, creativity, spontaneity, are the ingredients that guide me to realize my works.
Technique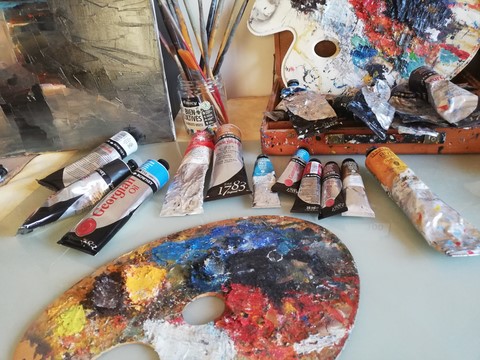 After having practiced different techniques (Acrylic, pastels, watercolor, etc.), the technique that I favor today is oil on canvas. My favorite themes are: The landscapes of the bay of Mont Saint-MICHEL, the seaside, Urban landscapes, Italy, New York.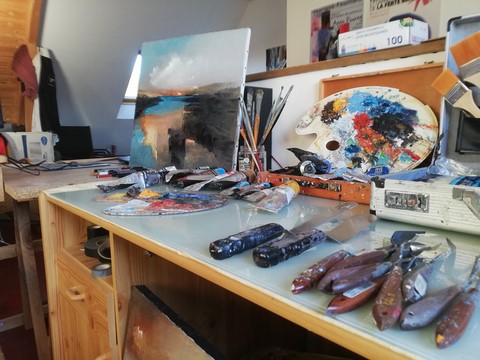 My main utensil is the painting knife, a kind of spatula that I use like a mason uses his trowel. The knife allows me to make flat areas and to superimpose the different layers, in order to obtain new colors. I also use different sizes and shapes of knives for sketching, tracing perspectives and shaping shapes. This work of the material laid generously on the canvas becomes a kind of sculpture, the relief rendered by the successive thicknesses of paint brings the strength and liveliness of the work.

Copyright © Philippe Meslin 2022 All rights reserved All rights reserved
www.philippemeslin.com : SIRET N° 44257291300022
Registered at the Maison des Artistes.